What is Jio Mart?
JioMart is the e-commerce marketplace operated by Reliance Retail, that connects retailers with customers. Just like Amazon Prime Now and Grofers, Jio Mart will not maintain any warehouses but will allow local retailers and Kirana merchants to list their products on the portal and sell them to the customers. Jio will take care of the operations involved in this process which include logistics, payments, etc. Jio Mart aims to sell over 50,000 grocery products and will offer benefits that include,
Free home delivery on no minimum order value
No questions asked return process
Express delivery promise
In the initial stages, Jio Mart will house products like daily staples, soaps, shampoos, and other household items which will give tough competition to players like Amazon and Grofers.
How to order from Reliance JioMart on WhatsApp
Users from Navi Mumbai, Thane and Kalyan region can place an order on the JioMart through WhatsApp.
Save the JioMart number 8850008000 and send a 'Hi' on WhatsApp.
JioMart will send a link which is valid for only 30 minutes.
The customer has to click on the link to fill all the details like address, name and phone number.
Select the items available from the JioMart product catalogue.
Place the order.
The customer will get the address of nearest Jiomart store to pick up the items.
Jio Mart Pre-Registration
There is an option for consumers to pre-register for the JioMart launch and save Rs 3000.
You can pre-register for JioMart by following below given steps:
Go to https://www.jio.com/jiomart
Scroll down and fill all the required details.
Enter the mobile number and the OTP to verify.
You will receive a confirmation message.
You can now save up to ₹ 3000 at launch.
कैसे कराएं Jio Mart रजिस्ट्रेशन
प्री-रजिस्ट्रेशन के लिए ग्राहक का नाम, मोबाइल नंबर, पिन कोड और मोबाइल नंबर भरना है।
रिलायंस आ रही है देश की दूकान लेके "जिओ मार्ट " जो अमेजन और फ्लिपकार्ट को चुनौती देगी | इस नए ई-कॉमर्स प्लेटफार्म 'जियो मार्ट' लॉन्च कर दिया है। जियो मार्ट ग्राहकों को आकर्षित प्री-लॉन्च ऑफर दे रही है। जो ग्राहक JioMart के लिए प्री-रजिस्टर करेंगे उनके 3,000 रुपए तक की बचत ऑफर मिलेगा।
से 50,000 से अधिक किराना उत्पादे ।
बिना किसी न्यूनतम ऑर्डर मूल्य के मुफ्त होम डिलीवरी
बिना किसी सवाल के रिटर्न
तेज डिलिवरी का वादा
Jio Mart आने के बाद सब से पहले जियोमार्ट पर दैनिक स्टेपल, साबुन और अन्य घरेलू सामान और उत्पाद मिलेंगे बाद में कंपनी और भी कई चीज़े लाएगी जैसे फ्लिपकार्ट और अमेज़न पे मिलते है |
Jio Mart Deals and Offers:
Currently, as we see, most of the poroducts are discounted by 10% to 15% of the MRP. There are also products discounted by as much as 50%, but their number are very few. As for the deals and offers on the Jio Mart app, there are several sections to offer a plethora of discounts to buyers. These include,
Under 99 Store
Deals of the Day
Flash Sale
Super Savers
Jio Mart again seems to have taken a clue from Amazon in marketing its products. If we look at Amazon, we can find a similar kind of deals.
How to Register on JioMart as Retailers
The pre-registrations for retailers to become a seller on the Jio Mart is going on in full flow. Retailers can become a seller on the JioMart and Jio will provide all the necessary help to them to give a smooth experience to both seller and customers.
All the groceries store owners can use the Jio Mart app to list all their inventory online along with features like taking orders, adding new stocks, creating offers and manage online sales.
How to Download Jio Mart Android App?
Reliance Jio has just launched the dedicated app for the Android users. The app is now available currently in the Google Play store. Interested people can sideload the app by downloading it from the link given below.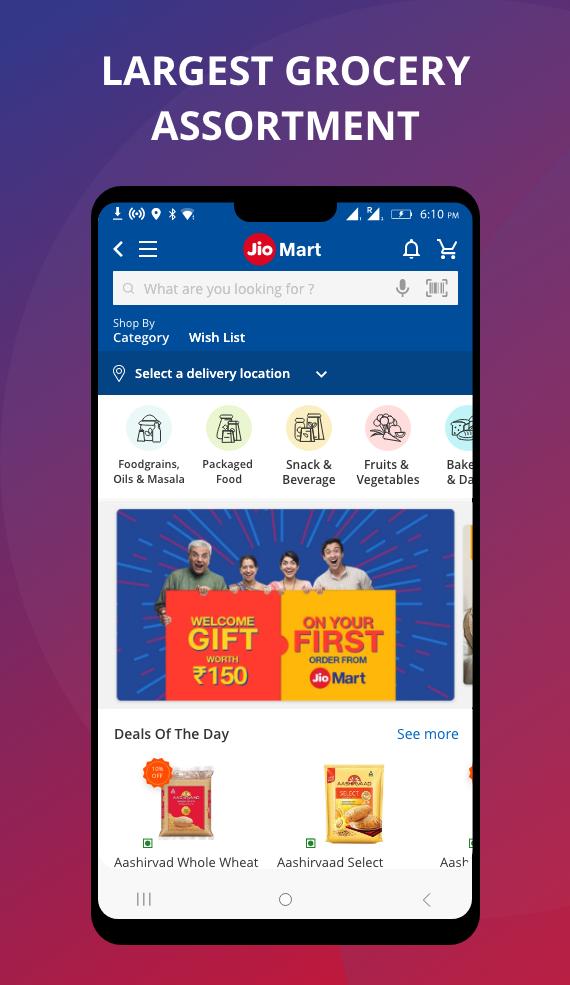 As said, The JioMart platform is currently opened for Maharashtra but soon it will function across India.